Youth learning courses with Learn@Sea
Posted on 23 June 2020 by Marine Society
---
In April while the whole of the country was in lockdown and life was very bleak I received an email regarding courses available online through the Marine Society. Being a Sea Cadet and wanting to go into the navy in the future I thought it sounded very interesting. It gave me time away from home learning and a different focus but still learning at the same time.
Maths isn't my strongest subject so I decided to sign up for maths@sea first. Having a nautical theme got me engaged straight away. I then tackled writing@sea which was again based around the nautical theme. I felt proud of being given this opportunity by The Marine Society to sign up for free through my local Sea Cadet unit, TS Eliza Adams, Wells-Next-The-Sea. The instant printable certificate was something to show off the achievement. It gave me a focus of still being involved with cadets while all face to face contact had stopped due to the Covid-19 outbreak. It helped to take my mind away from all of the things that had promptly stopped which I loved to do - Sea Cadets being a big part of my life. This made me want to look into the other courses available through the Marine Society.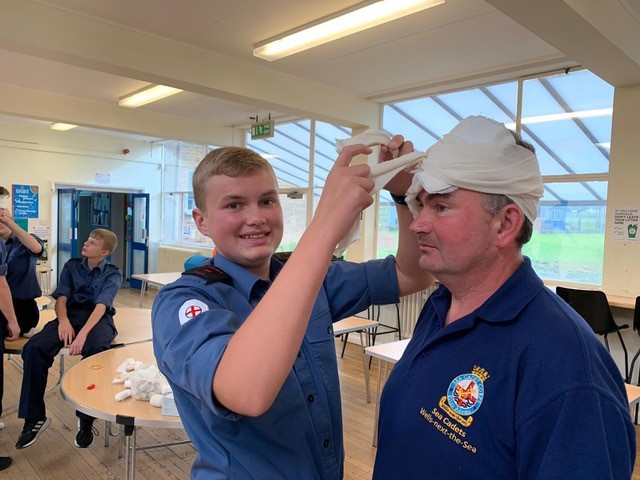 Cadet Henry learning first aid at Wells-Next-The-Sea Sea Cadets.
Spreadshets@sea was another free course but I was a bit disappointed there was no printable certificate! For £2.99 I decided to sign up for the Geography@sea and I found this course fun. My favourite one out of the four.
I will certainly go and do further courses in the future through the Marine Society and would highly recommend to anyone who is either a seafarer or Sea Cadet
Ordinary Cadet Henry T.
Aged 14
Wells-Next-The-Sea Sea Cadets
---