Level 3 Workboat Crewmember
Course Overview
Workboat crew members are often part of a 2-3 person team, working on a wide variety of specialist vessels ranging from tugs and workboats to fast pilot boats and crew transfer vessels taking personnel out to vessels or installations offshore.
Workboats operate in varying marine environments, such as the construction of offshore wind farms or providing a range of services within ports or inland waterways, including surveys and towage, support vessels in major salvage operations and wreck removal. These vessels are typically less than 24m in length, with accommodation for up to 5 persons.
The Workboat Crewmember Apprentice program incorporates all aspects of the Workboat Crewmember Apprenticeship Standard and additional RYA/MCA qualifications over two years.
Course Length
18 - 24 months
Levy Funding
Maximum £20,000 - Non-levy employer contribution (5%)
Apprentice Requirements

Enthusiasm and a willingness to learn your chosen trade.
Dedication and commitment to coursework and the job.
English and Maths to GCSE (or equivalent) grade C or 4. If not, Marine Society
will assist you in gaining these qualifications during the Apprenticeship.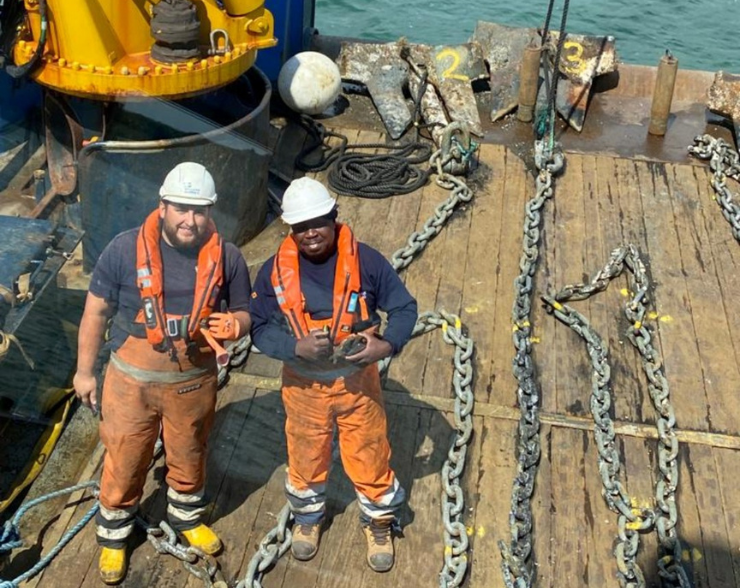 By the end of the Apprenticeship, a workboat crewmember will be able to do the following:
Communications – including use of VHF and UHF radios.
Navigation and vessel handling – the ability to manoeuvre the workboat and check position using bridge equipment.
Berthing – bring workboat alongside and handling mooring ropes to secure the workboat.
Towing operations and laying moorings.
Personnel transfers – ensuring all precautions are taken to allow the safe transfer to other boat or structure.
Cargo handling – assist in slinging of loads, crane operations.
Workboat Crewmember apprentices also gain a Skippers licence for commercial vessels under 24m giving the opportunity to a career pathway to higher-level skippers certificates.
By the end of the training, apprentices should have the required underpinning knowledge, have the relevant sea service to gain a recognised skippers certificate for commercial vessels up to 24m in length and have a host of recognised certificates that employers around the world require.
Timings may alter slightly due to weather conditions, practical aspects of the course and employer schedules.