Slater Scholarship
Are you in the Merchant Navy and looking to progress your career?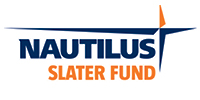 The Slater Fund, managed by the Marine Society with Nautilus International, offers Slater Scholarships of up to £18,500, with an additional discretionary £1,500 for completing the programme.
The Fund helps ratings study for the first certificate of competency, and can also help Electro-Technical Officers and yacht, workboat and tug crew gain STCW certification.
It was established in 1977 in memory of former MNAOA General Secretary John William Slater. In the past 10 years, more than 1,000 seafarers have benefitted.
Can I apply?
Yes, if you are a Merchant Navy rating, Electro Technical Officer (ETO), Workboat, Tug or Yacht crew and wish to study for the STCW Officer of the Watch, deck or engine qualifications. Consideration is also given to those who already hold the Class 2 or Class 1 Fishing ticket and are looking to convert to the OOW Unlimited.
It is only available to British seafarers who are resident in the UK.
From 2020 a Slater scholarship will only be awarded to experienced seafarers who have completed ALL the seagoing service required for the certificate they are aiming for. You will be expected to already have your Notice of Eligibility (NOE) or evidence of all your seagoing service and be in a position to apply for it. Please note that you do NOT need to have completed all your courses before applying for your NOE.
Due to the very large number of applications that have been received in recent years, it has been necessary to make some changes to the process for applying for Slater scholarships.
From this year, instead of inviting applications throughout the year, we will now have an annual assessment in May.
Applications for 2020 are now closed and scholarships have been awarded.
We welcome applications for the 2021 awards from 4 January 2021, with a closing date of 4 May 2021 at 17.00 hours. All applicants will be notified by 15 June 2021.
"The Marine Society's Slater Fund has enabled me to pursue and complete my goal of becoming an Officer of the Watch. Their advice has been friendly and professional, and I could not offer a higher recommendation."

Steven Rogers, Maritime and Coastguard Agency
How can I use it?
This scholarship can help offset the direct costs of obtaining a certificate of competency through any MCA approved nautical college or training provider within the UK.
It can also help fund the necessary courses and assist with accommodation, travel, learning resources and living expenses whille you study, as well as funding the cost of upskilling in functional skills, such as Mathematics, offered by Marine Society to those in need.
How does it work?
All scholarships awarded from 2020 will be available for two years from the date of award and must start to be used within one year of being awarded. The Fund is available experienced seafarers aged a minimum of 21 years old and permanently resident in the UK.
It is subject to status checks, and dependent upon the availability of funds.
---
Apply
Please read our guidance notes first before completing the application form.
As part of the application process, you are required to complete the Maths@Sea and Writing@Sea online programmes (except ETO applicants). To subscribe to Maths@Sea and Writing@Sea please visit here.
"Having recently completed my Officer of the Watch, I believe I gained favour in securing a permanent position on the government research vessel MRV Scotia. My aspirations are to move forward, upward and onward with my Officer of the Watch Certificate of Competency."

Gilbert Patterson, MRV Scotia
---
You have to be a minimum of 21 years of age to be eligible to apply for this scholarship.

There is no upper age limit, however, it is expected that you are fit enough to work at sea (hold an ENG1 medical certificate) and plan to do so for the foreseeable future.

This funding is for an 'experienced seafarer' who want to gain their first certificate of competency or move up the career ladder. You are expected to have completed ALL the sea service required for the certificate you are aiming for, e.g. OOW unlimited requires 36 months sea service on vessels over 24m or 80GT with bridge watch-keeping requirements.

If you have been a permanent resident of the UK for the past 3 years or more you can apply for the scholarship. However, we will need proof of this such as copies of utility bills, rent agreement.

Yes, if you already hold the RYA Yacht Master Offshore/Ocean or IYT Master of Yachts. The scholarship will not cover the cost of any RYA/IYT courses or exams and you must have the required sea service. Please refer to MSN 1862.

OOW Unlimited – will be given priority consideration
Engineer Officer of the Watch III/1 – will be given priority consideration
Small Vessel ENG 111/2
Master <200GT/<500GT
Master Yachts <500GT
OOW Tugs <500GT
Master Workboats <500GT
Master Tugs <500GT
OOW Yachts <3000gt
OOW Yachts <3000GT With Chief Mates endorsement
Electro-technical Officer – will be given priority consideration
Class 1 Fishing with OOW unlimited conversion

No, you are required to have completed all your sea service for the certificate you are aiming for and be in receipt of your Notice of Eligibility before submitting an application. This is so that you can focus on your studies and complete all your courses within the two-year period that the Fund is awarded for.

No, it is expected that you will be returning home to the UK to complete your studies. All courses and exams must be completed at MCA approved course providers in the UK.

The scholarship will only assist you to reach your first CoC.

The scholarship will pay for all course and exam fees that are required for the CoC you are aiming for. It will also contribute towards temporary accommodation, food, travel, book and stationery. The scholarship will not pay for personal outgoings such as rent or mortgage on your permanent home and utility bills or expenses such taxis, parking fees or international flights .

This is to ensure that you have the required level of numeracy and literacy skills to be able to cope with your OOW studies. They are maritime contextualised up-skilling courses that have been designed to support seafarers who may have been out of formal education for a number of years.

You can subscribe to Maths@sea and Writing@sea by visiting here. Please submit your quiz scores with your application. Only those who are granted a scholarship will be reimbursed their subscription fees to these courses.

Yes, please submit your application and supporting documents to Slater@ms-sc.org

If you are considering studying via blended learning, it is important that we discuss this with you first to ensure that you have given full consideration to challenges you may face during this method of study.